Wall and Roof Panels
Wall and roof panels offer the building user a choice of the best of exterior finishes: color coated panels, a superior-polyester paint finish which is available with a 20 year limited warranty; or Galvalume®, an aluminum/zinc alloy-coated steel panel.
Color Finishes
A superior color finish that remains beautifully tough for years and years, panels are available in a range of contemporary colors. These panels and color trim can be combined to provide a contracting or complementing finish that is architecturally attractive.
Galvalume®
Galvalume® panels are formed of steel sheets that have a coating this is about 55 percent aluminum and 45 percent zinc by volume. The rest is a steel that is highly corrosive-resistant.
Galvalume® offers the building owner the best features of both aluminum and zinc; the durable and long live of aluminum coating; and the galvanic protection of zinc coating.
Trim, Wall and Roof Panel Profiles
With a ribbed profile this is an excellent choice for an attractive yet cost-effective wall covering. Manufactured in 24 and 26 gauge, you can be sure it will stand the test of time.
Available in Galvalume® or painted options.
Gutters help to direct the runoff from your roof and keep the sides of your building in a good clean condition. Additionally, they greatly enhance the overall look and feel of your steel building.
Trim pieces are used in various areas of your building to connect and disguise the transitional areas. T he trim on your building also serves to lock out any outside elements such as rain snow.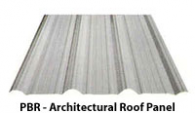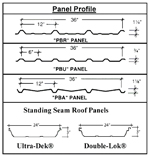 We can help you find a builder in your area. Click here