Standard Colors for Pre-engineered & Customized Steel Buildings
BURNISHED SLATE (BS)

.31 Reflectance (R)
.86 Initial Emmitance (IE)
32 Solar Reflectance Index (SRI)
EVERGREEN (EG)

.26 Reflectance (R)
.86 Initial Emmitance (IE)
25 Solar Reflectance Index (SRI)
AZTEC BLUE (AB)

.25 Reflectance (R)
.86 Initial Emmitance (IE)
24 Solar Reflectance Index (SRI)
BRICK RED (BR)

.32 Reflectance (R)
.83 Initial Emmitance (IE)
32 Solar Reflectance Index (SRI)
SAGEBRUSH TAN (SB)

.47 Reflectance (R)
.85 Initial Emmitance (IE)
53 Solar Reflectance Index (SRI)
FOX GRAY (FG)

.43 Reflectance (R)
.85 Initial Emmitance (IE)
47 Solar Reflectance Index (SRI)
LIGHTSTONE (LS)

.59 Reflectance (R)
.87 Initial Emmitance (IE)
70 Solar Reflectance Index (SRI)
POLAR WHITE (PW)

.66 Reflectance (R)
.86 Initial Emmitance (IE)
79 Solar Reflectance Index (SRI)
---
Kynar 500 Colors
DARK BRONZE (DB)

.282 Reflectance (R)
.85 Emissivity (E)
28 Solar Reflectance Index (SRI)
CYPRESS GREEN (CY)

.285 Reflectance (R)
.85 Emissivity (E)
28 Solar Reflectance Index (SRI)
REGAL BLUE (RB)

.264 Reflectance (R)
.85 Emissivity (E)
25 Solar Reflectance Index (SRI)
TERRA COTTA (TC)
.309 Reflectance (R)
.85 Emissivity (E)
31 Solar Reflectance Index (SRI)
SURREY BEIGE (SU)

.490 Reflectance (R)
.86 Emissivity (E)
56 Solar Reflectance Index (SRI)
MEDIUM GRAY (MG)

.400 Reflectance (R)
.86 Emissivity (E)
44 Solar Reflectance Index (SRI)
WARM WHITE (WW)

.645 Reflectance (R)
.85 Emissivity (E)
77 Solar Reflectance Index (SRI)
REGAL WHITE (RW)

.721 Reflectance (R)
.85 Emissivity (E)
88 Solar Reflectance Index (SRI)
---
Click here for a Color Map for your project. Select what colors you would like on the form using the drop down options.
When completed, save the form and email to george@hicorpsteel.com.
NOT ALL PANELS ARE AVAILABLE IN ALL COLORS.
Colors are representative of colors offered and are NOT intended for matching purposes. Exact color match should be made from metal color chip samples.
Base Angle Flash is available in Burnished Slate and Polar White only.
Galvalume® Gutters, Rake, and Downspouts are available as an upcharge. Galvalume® ratings are .680 Solar Reflectance (R), .10 Thermal Emissivity (E), and 56 Solar Reflectance Index (SRI).
All Standard Silic one Polyester colors shown on this chart feature a 25 year finish warranty. Galvalume® panels feature a 25 year finish warranty. See Warranty Guide for warranty information.
The term "TBS" on the Nucor Order Document refers to "To Be Selected from Standard Nucor Silicone Polyester Colors" as shown on this chart. Warranties apply only to the finish coat of exterior mounted panels. Backer side primer colors may vary.
In keeping with a continuing program of product improvement, all information contained herein is subject to change without notice.
Galvalume® is a registered trademark of BIEC International, Inc.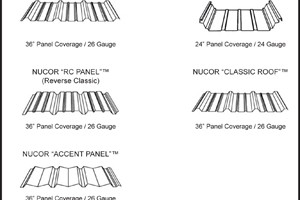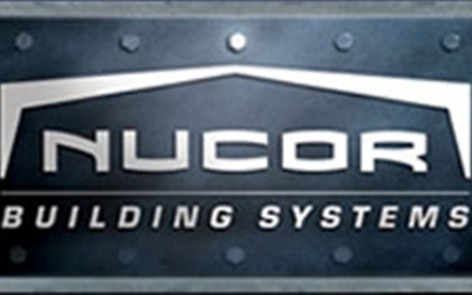 We can help you find a builder in your area. Click here